Well that took a bit longer than anticipated. I had to wait a day in between each paint application and with bad weather and work, this ended up taking closer to a week to finish these projects. Go
here
to see the process of how I painted these. And
here
to find out what I learned about painting brass.
I came across these wonderful stickers at my local dollar store the other day.
I was trying to think how I could incorporate them onto the planter I was painting.
I decided against the sun words and ended up going with my initial and the little flat rinestones that were on the sticker package with the letters.
I had painted the brass planter with one coat of self etching primer and two coats of white, but hated the shiny whiteness of the white, so bought another can of paint, called Heirloom White to finish this project with. I like this look alot.
Before
After
And finally here is the silver tray chalkboard with two coats of chalkboard paint
I didn't even know you could buy chalkboard paint and I love this idea. I have always seen tons of these silver platters at the thrift store but thought they looked kind of tacky and old fashioned. I couldn't really see myself serving anything on them, but I think it looks awesome like this.
While I was at the paint store picking up the chalkboard paint, I noticed they also have a magnetic primer! You can paint the magnetic primer on the wall then paint over it with chalkboard (or any other colour paint). What a great idea for a kids room, a whole wall that they can stick magnet toys to and write on with chalk.
Almost makes me want to have kids, lol!
Happy crafting !!
This post is linked to My Romantic Homes,
Show and Tell Friday
, go take a look at all the other wonderful ideas bloggers have come up with.
I am also linked to Along for the Rides, Saturday is Crafty Day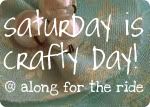 and
Lots of amazing crafts here, check it out